Welcome to the
"O C E A N   T R E A S U R E S"
M e m o r i a l   L i b r a r y
This entire website is a totally"free gratis" venue encompassing my 1971-2009 oceanic marine biology research & outreach science program and is hereby made available for any type of educational and/or personal use. Originally hosted in Yahoo Groups, the library relocated to its new home in 2013 which now provides the leading-edge technology to carry on with a worldwide legacy.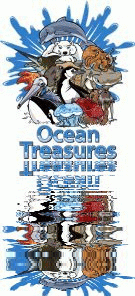 Many of the photographs & research materials were educational tools used in my outreach science program "OCEAN TREASURES". The program spanned 19-years (1988-2008) of displaying unique assembly/classroom presentations involving a combination of an extensive multimedia array & interactive "hands-on" items which included various specially prepared oceanic marine animals and was presented within pre-K to collegiate science curriculum throughout American, Canadian & Australian educational communities.
The memorials pay homage to Dr. Michael A. Bigg ("the Father of Killer Whale Research"), Jacques-Yves Cousteau ("the Captain") and Stephen R. Irwin ("the Crocodile Hunter"), a trio of gentlemen of whom I had the distinct honor of personally meeting during my career. Each in their own extraordinary way, truly enhanced the field of marine biological sciences and left their unique footprints upon my own personal studies.

Search the Photo Library by Category: